Zhermack presents Occlufast+, the new line of A-Silicones for a precise and accurate bite registration!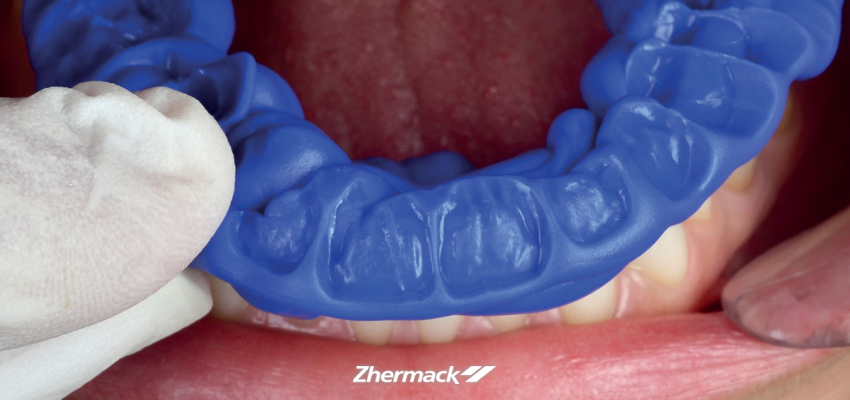 Occlufast+ and Occlufast+ Color are the new Zhermack solutions for bite registration that ensure high performance and increase the efficiency of the dental practice.
The imperceptible consistency, that allows not to interfere with the occlusion1, combined with a time in mouth of only 1 minute, offers a greater comfort to the patient and helps to ensure reliable results.
With Occlufast+ you can count on:
– a faster processing thanks to the short time in mouth which helps to reduce chair time
a reliable bite registration due to its high final hardness (37 ± 5 Shore D)
an easy and convenient extrusion where the easy handling, due to ready-to-use mixing cartridges, allows to directly apply the material in the mouth of the patient in a comfortable way. Moreover, the use of the yellow mixing tip saves material at each use if compared with other tips*.
In addition, to meet the growing needs of professionals, Occlufast+ is also available in a thermochromic version. The new Occlufast+ Color changes colour according to the temperature (from green to yellow). The colour change indicates the completed setting of the material offering a visual guide to the dentist in order to minimise the risk of errors.
Occlufast+, more control, more comfort, more precision. More quickly.
Your key to a successful restoration!
---
1N. Mobilio & S. Catapano, Effect of experimental jaw muscle pain on occlusal contacts, Journal of Oral Rehabilitation, 2011.
*Zhermack internal tests.
Application picture courtesy of: Dr. A. Barbaglia