Zhermack presenta Occlufast+, la nueva línea de siliconas-A para obtener registros oclusales precisos y exactos.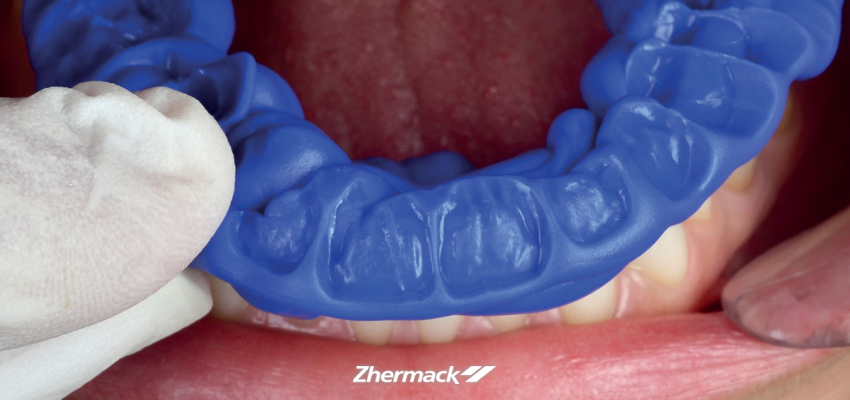 Occlufast+ y Occlufast+ Color son las nuevas soluciones de Zhermack para registros oclusales. Garantizan resultados de alta calidad y ayudan a mejorar la eficiencia en la consulta odontológica.
Por su consistencia imperceptible, no interfieren con la oclusión1, y con su tiempo de permanencia en la cavidad oral de solo 1 minuto, garantizan una mayor comodidad al
paciente y resultados fiables.
Con Occlufast+, tendrás las siguientes ventajas:
un menor tiempo de permanencia en la cavidad oral y, por tanto, un tiempo de trabajo más breve, que ayuda a limitar el tiempo que el paciente pasa en el sillón
Unos registros más fiables gracias a su elevada dureza final (37±5 Shore D)
Extrusión más fácil y práctica gracias a los cartuchos de mezcla listos para usar, que permiten aplicar el material de manera muy cómoda y directamente en la boca del paciente. Además, el uso del puntas mezcladoras amarillas permite ahorrar material en cada uso en comparación con otros puntales*.
Y, para satisfacer las crecientes exigencias de los profesionales, Occlufast+ también está disponible en versión termocromática. El nuevo Occlufast+ Color cambia de color (del verde al amarillo) conforme cambia la temperatura. El cambio de color indica el endurecimiento del material y permite al dentista contar con una guía visual para minimizar el riesgo de errores.
Occlufast+: más control, más comodidad, más precisión. En menos tiempo.
¡La clave del éxito en todas tus restauraciones!
---
1N. Mobilio y S. Catapano, Effect of experimental jaw muscle pain on occlusal contacts, Journal of Oral Rehabilitation, 2011.
*Pruebas internas de Zhermack
Imagen de la aplicación cortesia de: Dr. A. Barbaglia