Zhermack stellt Occlufast+ vor, die neue Linie von A-Silikonen für eine präzise und genaue Bissregistrierung!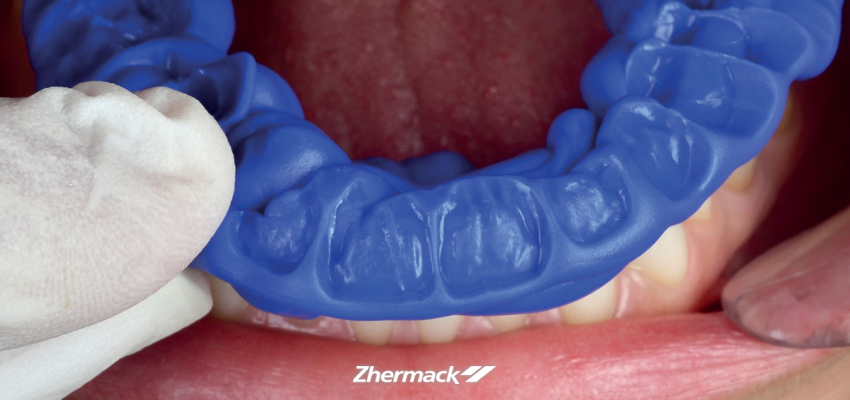 Occlufast+ und Occlufast+ Color sind die neuen, von Zhermack angebotenen Lösungen für die Bissregistrierung. Sie gewährleisten hohe Leistungen und steigern die Effizienz der Zahnarztpraxis.
Die bei der Okklusion1 nicht störend wirkende, kaum wahrnehmbare Konsistenz sowie die Verweildauer in der Mundhöhle von nur 1 Minute, garantieren einen höheren Komfort
für den Patienten und zuverlässige Ergebnisse.
Mit Occlufast+ erhalten Sie:
eine schnellere Verarbeitung durch kürzere Mundzeit, was zur Verringerung der Stuhlzeit beiträgt
eine zuverlässige Registrierung dank der hohen Endhärte (37±5 Shore D)
eine einfache und praktische Extrusion, einfache Handhabung dank der gebrauchsfertigen Mischkartuschen, die es ermöglichen, das Material bequem direkt auf den Mund des Patienten aufzutragen. Darüber hinaus spart die Verwendung der gelben Mischkanüle im Vergleich zu anderen Kanülen* bei jeder Anwendung Material.
Um den wachsenden Anforderungen der Fachleute gerecht zu werden, ist Occlufast+ auch in einer thermochromen Version erhältlich. Das neue Occlufast+ Color ändert seine Farbe, wenn sich die Temperatur ändert (von grün nach gelb). Die Farbänderung zeigt an, dass das Material ausgehärtet ist, was dem Zahnarzt eine visuelle Orientierung bietet, um das Fehlerrisiko zu minimieren.
Occlufast+, mehr Kontrolle, mehr Komfort, mehr Präzision. Bei kürzeren Zeiten.
Ihr Schlüssel zu einer erfolgreichen Wiederherstellung!
---
1N. Mobilio & S. Catapano, Effect of experimental jaw muscle pain on occlusal contacts, Journal of Oral Rehabilitation, 2011.
*Zhermack-interne Tests 
Anwendungsbild freundlicherweise zur Verfügung gestellt von: Dr. A. Barbaglia