Zhermack przedstawia Occlufast+, nową linię silikonów A do precyzyjnej i dokładnej rejestracji okluzji!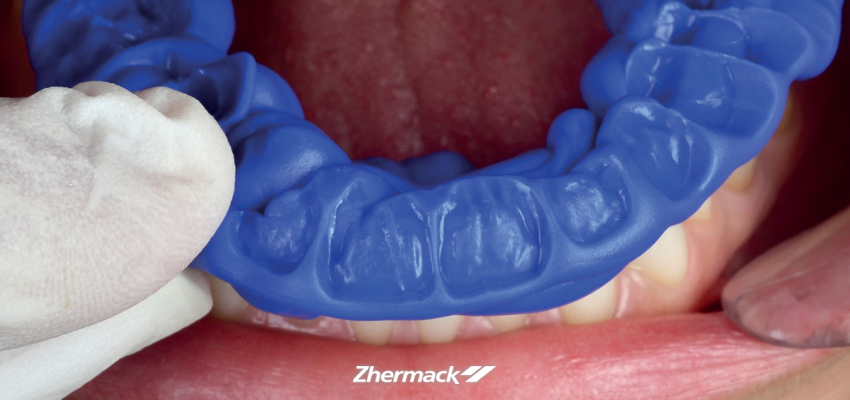 Occlufast+ i Occlufast+ Color to nowe rozwiązania firmy Zhermack do rejestracji okluzji, które zapewniają wysoką efektywność i zwiększają wydajność gabinetu stomatologicznego.
Niezauważalna dla pacjenta konsystencja, która pozwala na niezakłócanie okluzji1, a jednocześnie wynoszący zaledwie 1 minutę czas wiązania w jamie ustnej zapewniają wyższy komfort
pacjenta i niezawodne wyniki.
Dzięki Occlufast+ możesz liczyć na:
szybką pracę dzięki skróconemu czasowi wiązania w jamie ustnej, co pozwala skrócić czas pacjenta na fotelu
niezawodną rejestrację za sprawą wysokiej twardości końcowej (37 ± 5 Shore D)
łatwe i wygodne wyjmowanie, a dzięki gotowym do użycia nabojom do mieszania łatwość użycia pozwalającą na wygodne stosowanie materiału bezpośrednio w jamie ustnej pacjenta. Ponadto stosowanie żółtej końcówki mieszającej zapewnia oszczędność materiału przy każdym użyciu w porównaniu z innymi końcówkami*.
Co więcej, aby spełniać rosnące wymagania specjalistów, Occlufast+ występuje również w wersji termochromicznej. Nowy Occlufast+ Color zmienia kolor wraz ze zmianą temperatury (z zielonego na żółty). Zmiana koloru oznacza, że materiał jest już twardy, co od razu zauważa stomatolog i unika ryzyka popełnienia błędów.
Occlufast+, wyższa kontrola, większy komfort, dodatkowa precyzja. W krótszym czasie.
Twój klucz do pomyślnej odbudowy!
---
1Mobilio & S. Catapano, Effect of experimental jaw muscle pain on occlusal contacts, Journal of Oral Rehabilitation, 2011.
*Testy wewnętrzne Zhermack
Zdjęcie dzięki uprzejmości: Dr. A. Barbaglia