Przyszli dentyści, cała naprzód!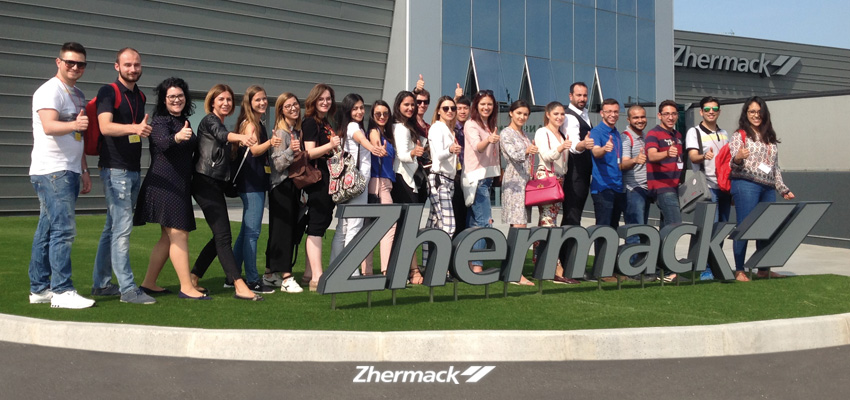 18 i 19 maja firma Zhermack otworzyła drzwi swojej siedziby dla Międzynarodowego Stowarzyszenia Studentów Stomatologii (ang. International Association of Dental Students – IADS).
Podczas zorganizowanego szkolenia grupa przyszłych dentystów, pochodzących z różnych części świata, mogła poznać nasze produkty. O przebiegu spotkania opowiedział nam Nicholas D. Charles, Professional Service Manager, zajmujący się w firmie Zhermack stosunkami instytucjonalnymi ze stowarzyszeniami naukowymi, uczelniami i kluczowymi podmiotami opiniotwórczymi.
Nicholas, możesz nam powiedzieć, jak się to wszystko zaczęło? Podczas ostatnich targów FDI w Poznaniu (nota redakcyjna: wrzesień 2016 – v Z.Life nr_0) miałem możliwość spotkania się z Prezydentem IADS, dr Siną Saygili. Podczas tego spotkania pojawiła się możliwość współpracy między firmą Zhermack i Stowarzyszeniem, nie na zasadzie klasycznej współpracy sponsorskiej typu ekonomicznego, ale organizując prawdziwe spotkania poświęcone studentom. Postanowiliśmy zaprosić ich do naszej firmy, organizując wydarzenie, które miało na długo pozostać w ich pamięci i zyskać ich sympatię. W ten sposób udało nam się zaangażować równocześnie więcej krajów i w sposób pośredni "zagościć" na różnych uniwersytetach. Zhermack jest pierwszą firmą z sektora dentystycznego, która zaproponowała Stowarzyszeniu taką formę współpracy.
Można więc powiedzieć, że jesteśmy pionierami. Kto się przyłączył do tej inicjatywy? W inicjatywie uczestniczyło dziewiętnastu studentów (zgłoszono osiemdziesięciu pięciu uczestników), wszyscy z 3. i 5. roku Stomatologii, z dziewięciu różnych
krajów na trzech kontynentach. Dla wielu z nich była to również pierwsza podróż do Włoch.
W jaki sposób przebiegło to wydarzenie? Miejscem spotkania była Wenecja, gdzie, w sali konferencyjnej, przeprowadzono szkolenie teoretyczne zakończone częścią praktyczną na temat naszych materiałów wyciskowych i produktów do dezynfekcji.
Przed zakończeniem szkolenia zorganizowano zwiedzanie zakładu produkcyjnego, co z pewnością pozostało w pamięci wielu uczestników: powiedzieli mi, że mieli wrażenie, jakby znaleźli się w słynnym programie telewizyjnym, w którym można dowiedzieć się, w jaki sposób wykonuje się różne materiały!
Zadbaliśmy również o organizację czasu wolnego i kolacji, w Badii, Ferrarze i Wenecji, aby uczestnicy mogli poznać nieco okolicę.
Studenci byli pełni entuzjazmu i bardzo zadowoleni. Jakie są twoje wrażenia na ten temat? Wszyscy są bardzo szczęśliwi i "pod wrażeniem". Kilku uczestników zapytało mnie, czy możliwa jest organizacja podobnych imprez w ich kraju, dla innych kolegów. Jeśli w przyszłości będą dostępne jeszcze środki finansowe i możliwości organizacyjne, dobrze byłoby powtórzyć podobną inicjatywę, angażując większą liczbę krajów.
Co według Ciebie wywołało największe wrażenie? Przede wszystkim to, że uczestnicy mogli zobaczyć pewien aspekt stomatologii, z którym sami nie mają przecież do czynienia na co dzień: mam na myśli "życie" producenta materiałów dentystycznych.
Ponadto było to dla nich małe, ale intensywne doświadczenie życiowe. Jest to młodzież o różnych przyzwyczajeniach, językach i religiach, która zebrała się tutaj w jednym celu, tak często budzącym obawy dentystów: nauczyć się wykonania dobrego wycisku!
Dziękuję Nicholas. Mogę cię prosić o komentarz końcowy? Trzeba przyznać, że organizacja tego wydarzenia nie była łatwa, ale myślę, że również dla firmy Zhermack było to niezwykle pozytywne doświadczenie, ponieważ daliśmy studentom to, czego naprawdę potrzebują; świadczy o tym ciepło, entuzjazm i wdzięczność, jaką nam okazali.