Zhermack présente Occlufast+, la nouvelle gamme de silicones A pour un enregistrement occlusal précis et soigné !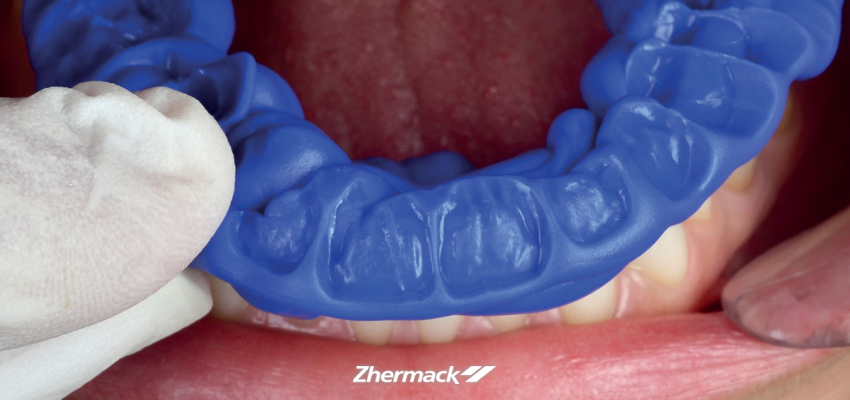 Occlufast+ et Occlufast+ Color sont les nouvelles solutions de Zhermack pour l'enregistrement occlusal qui garantissent des performances élevées et augmentent l'efficacité du cabinet dentaire.
La consistance imperceptible, qui permet de ne pas interférer avec l'occlusion1, ainsi que le temps en bouche de seulement 1 minute, garantissent un meilleur confort pour le
patient et des résultats fiables.
Avec Occlufast+ vous pouvez compter sur :
un traitement plus rapide grâce au temps en bouche réduit qui aide à réduire la durée de travail au fauteuil
un enregistrement fiable grâce à la dureté finale élevée (37±5 Shore D)
un retrait facile et avantageux où la facilité d'utilisation, grâce aux cartouches de mélange prêtes à l'emploi, permet d'appliquer facilement la matériel directement dans la bouche du patient. De plus, l'utilisation de l'embout de mélange jaune permet d'économiser de la matière à chaque utilisation par rapport aux autres embouts*.
Par ailleurs, pour répondre aux exigences croissantes des professionnels, Occlufast+ est également disponible en version thermochromique. Le nouveau Occlufast+ Color change de couleur en fonction de la température (de vert à jaune). Le changement de couleur indique le durcissement du matériau et constitue un indicateur visuel pour le dentiste permettant de minimiser le risque d'erreurs.
Occlufast+, davantage de contrôle, davantage de confort, davantage de précision. Dans des temps plus rapides.
La clé pour une restauration réussie !
---
1N. Mobilio & S. Catapano, Effect of experimental jaw muscle pain on occlusal contacts, Journal of Oral Rehabilitation, 2011.
*Tests internes Zhermack
Photo d'application de courtoisie de: Dr. A. Barbaglia