Zhermack przedstawia nową wersję Quick Set produktu Hydrorise Implant: precyzja i znana od zawsze niezawodność w krótszym czasie!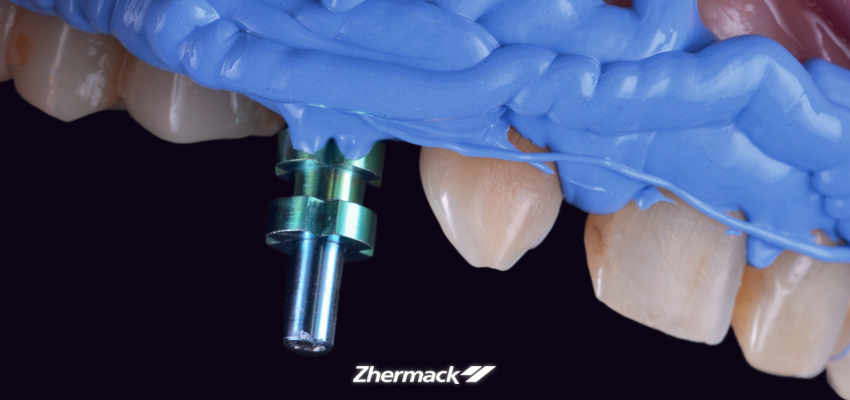 Von nun an keine Kompromisse mehr hinsichtlich Geschwindigkeit und Präzision.
Hydrorise Implant, wysokiej sztywności silikon addycyjny dla implantologii, jest teraz dostępny również w wersji Quick Set.
Od teraz koniec z kompromisami pomiędzy szybkością i precyzją.
Nowa wersja Quick Set marki Hydrorise Implant zapewnia jednakową precyzję jak zawsze, ale w szybszym tempie: tylko dwie minuty w jamie ustnej!
To produkt, którego nie może zabraknąć u specjalistów ceniących sobie krótki czas pracy i krótszy czas wiązania w jamie ustnej w porównaniu z wersją normalną, co przekłada się na wyższą efektywność działań w gabinecie.
Hydrorise Implant zaprojektowano specjalnie z myślą o wyciskach w protetyce implantologicznej, gdzie wykonywanie protez na implantach nowoczesnymi metodami CAD/CAM wymaga wysokiego poziomu dokładności i precyzji wycisku, o czym pisał ostatnio w swoim badaniu profesor Baldissara z Uniwersytetu Bolońskiego1. Dzięki idealnemu połączeniu wysokiej sztywności, która przyczynia się do utrzymania transferu w trójwymiarowej pozycji, oraz wysokiej pamięci materiałowej, która ogranicza do minimum ryzyko zniekształceń podczas wyjmowania z jamy ustnej, można uzyskać dokładny wycisk w łatwy i szybki sposób już przy pierwszej próbie.
Dostosowany do nowych cyfrowych technologii Hydrorise Implant można również skanować najbardziej popularnymi systemami CAD/CAM bez użycia sprejów matujących i CBCT*, co zapewnia przepływ pracy cyfrowej, który usprawnia komunikację z laboratorium techniki dentystycznej.
Hydrorise Implant to idealne rozwiązanie spełniające wymagania kliniczne nowoczesnej protetyki implantologicznej jako zapewniające znacznie wyższą
dokładność i precyzję niż inne materiały, na przykład polietery.
Hydrorise Implant, simply accurate
---
1P. Baldissara*, C. Parisi*, F. Ghelli*, L. Ciocca*, R. Meneghello**, A.M. Messias***.
Accuracy And Precision Of Impression Materials Designed For Implant Prosthodontics.
Abstract IADR/AADR 2019.
* DIBINEM Prosthodontics, University of Bologna, Bologna, ITALY
** Mechanical Engineering, University of Padova, Padova, ITALY
*** Dental Materials and Prosthodontics, São Paulo State University (UNESP), School of Dentistry, Araraquara, Araraquara, São Paulo, BRAZIL
*Test skanowania wykonanego przy użyciu 3Dfast na wyciskach uzyskanych z modeli.
Zdjęcie dzięki uprzejmości: Dr. A. Barbaglia