Zhermack stellt die neue Quick Set-Version von Hydrorise Implant vor: Die bewährte Präzision und Zuverlässigkeit, in kürzerer Zeit!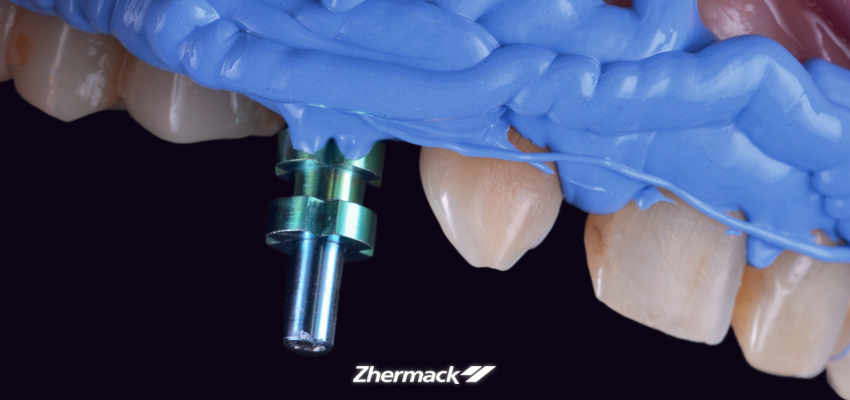 Hydrorise Implant, das hochsteife A-Silikon für die Implantologie, ist jetzt auch in der Quick-Set-Version erhältlich.
Von nun an keine Kompromisse mehr hinsichtlich Geschwindigkeit und Präzision.
Die neue Quick-Set-Version von Hydrorise Implant bietet die gleiche Präzision wie bisher, jedoch in weniger Zeit: nur zwei Minuten Verweilzeit im Mund!
Unverzichtbar für Profis aufgrund der schnellen Verarbeitungszeit und einer kürzeren Mundverweildauer im Vergleich zur Standardversion, was für größere Effizienz im Studio steht.
Hydrorise Implant wurde eigens für die Abformung in der Implantatprothetik entwickelt, wo die Herstellung von Prothesen für Implantate mit den modernen CAD/CAM-Verfahren hohe Zeichnungsgenauigkeit und Präzision der Abformung erfordert, wie es aus der jüngsten Studie von Herrn Prof. Baldissara der Universität Bologna 1 hervorgeht. Die ideale Kombination aus hoher Steifigkeit, die zur Übertragung in die 3D-Position beiträgt, und hoher Rückstellfähigkeit, die das Risiko der Deformation während der Entnahme aus dem Mund minimiert, ermöglicht es, eine zeichnungsscharfe Abformung auf einfache und schnelle Weise schon beim ersten Versuch zu erhalten.
Hydrorise Implant ist mit den digitalen Technologien kompatibel und mit den gängigsten CAD/CAM-Systemen scanfähig, ohne Verwendung von Scanspray und CBCT*, und fügt sich in den digitalen Arbeitsablauf zur Verbesserung der Kommunikation mit dem Dentallabor ein.
Hydrorise Implantat erweist sich dank hoher Zeichnungsschärfe und Präzision, die weit über der anderer Materialien wie z. B. Polyether liegen, als die ideale Lösung, um die strengen klinischen Anforderungen der modernen Implantatprothetik zu erfüllen.
Hydrorise Implant, simply accurate
---
1P. Baldissara*, C. Parisi*, F. Ghelli*, L. Ciocca*, R. Meneghello**, A.M. Messias***.
Accuracy And Precision Of Impression Materials Designed For Implant Prosthodontics.
Abstract IADR/AADR 2019.
* DIBINEM Prosthodontics, University of Bologna, Bologna, ITALY
** Mechanical Engineering, University of Padova, Padova, ITALY
*** Dental Materials and Prosthodontics, São Paulo State University (UNESP), School of Dentistry, Araraquara, Araraquara, São Paulo, BRAZIL
*Mit 3Dfast ausgeführter Scan-Test an von Modellen erhaltenen Abformungen.
Anwendungsbild freundlicherweise zur Verfügung gestellt von: Dr. A. Barbaglia