Zhermack présente la nouvelle version Quick Set d'Hydrorise Implant : la précision et la fiabilité de toujours, en moins de temps !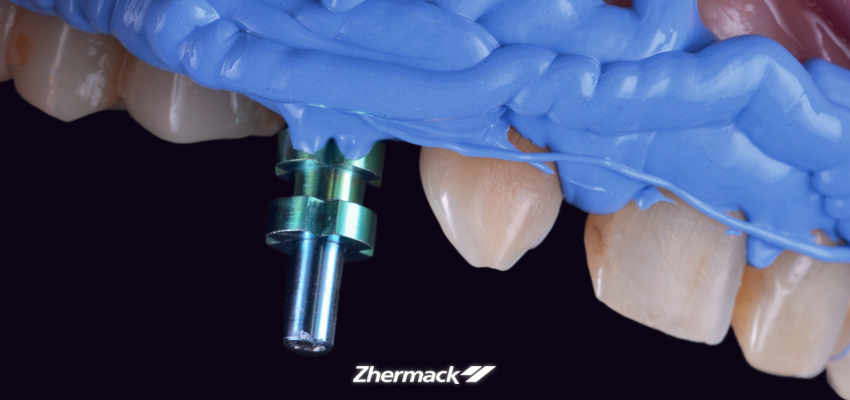 Hydrorise Implant, le silicone par addition à rigidité élevée pour l'implantologie est désormais également disponible en version Quick Set.
Dès aujourd'hui, finis les compromis entre vitesse et précision !
La nouvelle version Quick Set d'Hydrorise Implant offre la même précision qu'auparavant mais plus rapidement : seulement deux minutes en bouche !
Un must pour les professionnels qui recherchent un temps de traitement rapide et un temps en bouche plus court par rapport à la version normale, qui devient synonyme de plus grande efficacité au sein du cabinet.
Hydrorise Implant a été spécifiquement conçu pour la prise d'empreinte en implantologie où la réalisation de prothèses sur implants avec les méthodes CAD/CAM modernes nécessite un niveau de minutie élevé et une grande précision de l'empreinte, comme le souligne la récente étude du Prof. Baldissara de l'Université de Bologne1. Grâce à une combinaison idéale entre rigidité élevée, qui contribue à maintenir le transfert dans la position tridimensionnelle, et récupération élastique élevée, qui réduit au minimum le risque de déformation au moment du retrait de la bouche, il est possible d'obtenir une empreinte précise de manière facile et rapide dès la première tentative.
Adapté aux nouvelle technologies numériques, Hydrorise Implant peut également être numérisé avec les systèmes CAD/CAM les plus courants, sans nécessité d'utiliser des sprays opacifiants et des CBCT*, en s'intégrant dans le flux de travail numérique pour améliorer la communication avec le laboratoire dentaire.
Hydrorise Implant confirme être la solution idéale pour répondre aux contraintes cliniques rigoureuses de l'implantologie moderne, montrant qu'il possède un niveau de minutie élevé et une précision largement supérieure par rapport aux autres matériaux, par exemple les polyéthers.
Hydrorise Implant, simply accurate
---
1P. Baldissara*, C. Parisi*, F. Ghelli*, L. Ciocca*, R. Meneghello**, A.M. Messias***.
Accuracy And Precision Of Impression Materials Designed For Implant Prosthodontics.
Abstract IADR/AADR 2019.
* DIBINEM Prosthodontics, University of Bologna, Bologne, ITALIE
** Mechanical Engineering, University of Padova, Padoue, ITALIE
*** Dental Materials and Prosthodontics, São Paulo State University (UNESP), School of Dentistry, Araraquara, Araraquara, São Paulo, BRÉSIL
*Test de numérisation réalisé avec 3Dfast sur empreintes obtenues par modèles.
Photo d'application de courtoisie de: Dr. A. Barbaglia