Zhermack presenta la nueva versión Quick Set de Hydrorise Implant: la misma precisión y fiabilidad de siempre… ¡pero en menos tiempo!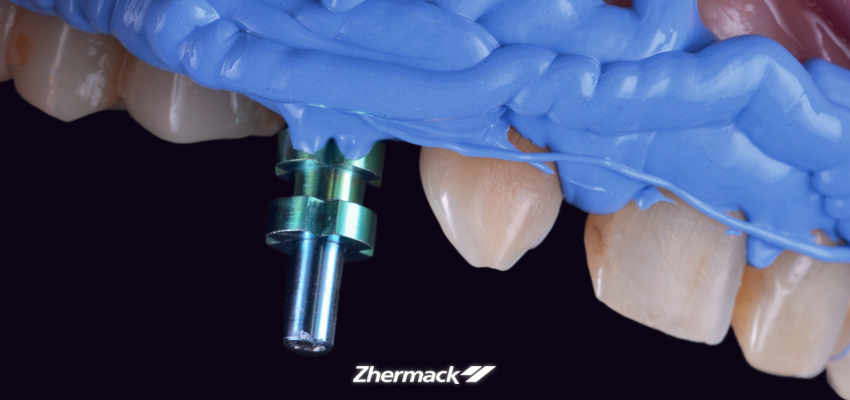 Hydrorise Implant, la silicona de adición y alta rigidez para implantología, ya está disponible, también en versión Quick Set.
Se acabó el tener que elegir entre velocidad y precisión.
La nueva versión Quick Set de Hydrorise Implant ofrece la misma precisión de siempre, pero de manera más rápida: ¡solo dos minutos de permanencia en la cavidad oral!
Un producto imprescindible para profesionales que busquen unos tiempos de trabajo y permanencia en la cavidad oral más breves respecto a la versión estándar, gracias a lo cual se logra un mayor eficiencia en la consulta odontológica.
Hydrorise Implant está específicamente diseñado para la impresión en trabajos de implantología en los que la realización de prótesis sobre implantes con las técnicas modernas de CAD/CAM exija un alto grado de exactitud y precisión en la fase de impresión, tal como ha quedado demostrado en el reciente estudio del Prof. Baldissara de la Universidad de Bolonia1. Gracias a una combinación ideal de alta rigidez, que contribuye a mantener el tránsfer en la posición tridimensional, y alto grado de recuperación elástica, que reduce al mínimo el riesgo de deformación al retirar el material de la boca, se puede obtener una impresión exacta de manera fácil y rápida y al primer intento.
Hydrorise Implant es apto para el uso de las nuevas tecnologías digitales. Además, puede escanearse con los sistemas CAD/CAM más habituales sin necesidad de utilizar espray opacificante y CBCT*. De esta manera, puede integrarse en el flujo de trabajo digital para mejorar la comunicación con el laboratorio dental.
Hydrorise Implant es la solución ideal para satisfacer los estrictos requisitos clínicos de la implantología moderna, al ofrecer a una exactitud y una precisión significativamente superiores a otros materiales (por ejemplo, los poliéteres).
Hydrorise Implant: sencillamente preciso
---
1P. Baldissara*, C. Parisi*, F. Ghelli*, L. Ciocca*, R. Meneghello**, A.M. Messias***.
Accuracy And Precision Of Impression Materials Designed For Implant Prosthodontics.
Abstract IADR/AADR 2019.
* DIBINEM Prosthodontics, University of Bologna, Bolonia, ITALIA
** Mechanical Engineering, University of Padova, Padua, ITALIA
*** Dental Materials and Prosthodontics, São Paulo State University (UNESP), School of Dentistry, Araraquara, Araraquara, São Paulo, BRASIL
*Prueba de escaneado realizada con 3Dfast sobre impresiones obtenidas a partir de modelos.
Imagen de la aplicación cortesía de: Dr. A. Barbaglia