Zhermack is awarded the Prize for "Best Large Enterprise in the province of Rovigo"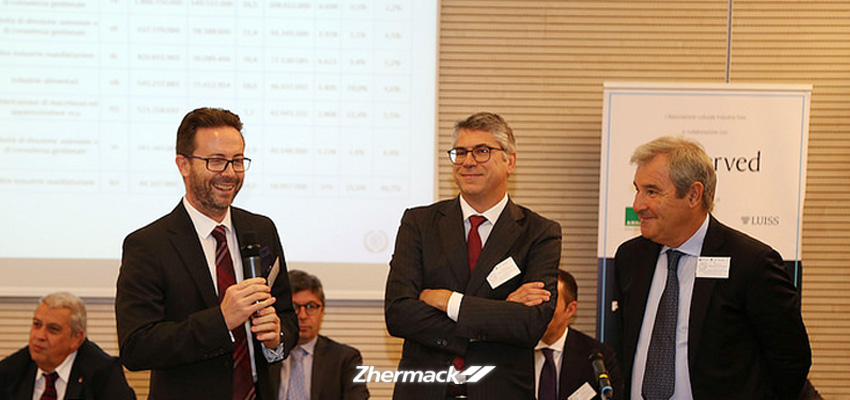 Badia Polesine, 10th October 2017 – "This prize awarded to us today is a milestone that doesn't make us feel like we've achieved all there is to achieve, but instead motivates us to strive towards new horizons with more vigour, conviction and determination than ever. Our company's success is based on two fundamental assets: human resources and a client-centric philosophy. Investments in know-how and technology, together with our international vocation, form the framework for our corporate strategy." These were the sentiments expressed by Zhermack's General Manager, Paolo Ambrosini, during the award ceremony on 6th October at Marghera, and re-echoed today at the company headquarters in Badia before a large audience of local authorities and company employees.
The Premio Industria Felix prize is awarded for entrepreneurial excellence, recognising those companies that achieve the best management performance of the year. This first edition is based on the 2015 financial statements of 13 thousand companies with share capital and registered offices in the Veneto region and a turnover of between 2 million and 12 billion Euros, based on the survey by the journalist Michele Montemurro, founder and chairman of the Award and data from Cerved (the largest Information Provider in Italy and one of the main rating agencies in Europe).
The Prize, which enjoys the patronage of the LUISS Guido Carli University and Confindustria Veneto, was collected by Paolo Ambrosini accompanied by a small group of Company executives in the Gold Hall of the Venice branch of Confindustria at the Vega Science and Technology Park in Marghera. The event, moderated by the journalist, writer and Rai 1 TV executive Angelo Mellone, was attended by top management of Cerved, the LUISS Guido Carli University and Confindustria Veneto. Zhermack representatives were proud and touched to be given this special award, keenly aware that they represent the many company employees who work with tireless dedication, to achieve shared goals. At the event, Zhermack also received a special Financial Statement Mention for reporting the Best EBITDA in the province of Rovigo: EBITDA (Earnings Before Interest, Taxes, Depreciation and Amortization) is a profitability indicator that highlights a company's income and is based on its operational management, which reflects the company's manufacturing performance.
"Today's competitive climate, which we are all well acquainted with, is complex and challenging; many strive to excel in such a climate but few succeed. Zhermack has always worked towards this goal, guided by its vision and the objectives it has set itself and that it pursues every day with professionalism, dedication and passion," stated Mr Ambrosini before dedicating the award to the entire company staff in recognition of their valuable role and as a sign of gratitude.