Firma Zhermack została wybrana "Najlepszą Dużą Firmą w prowincji Rovigo"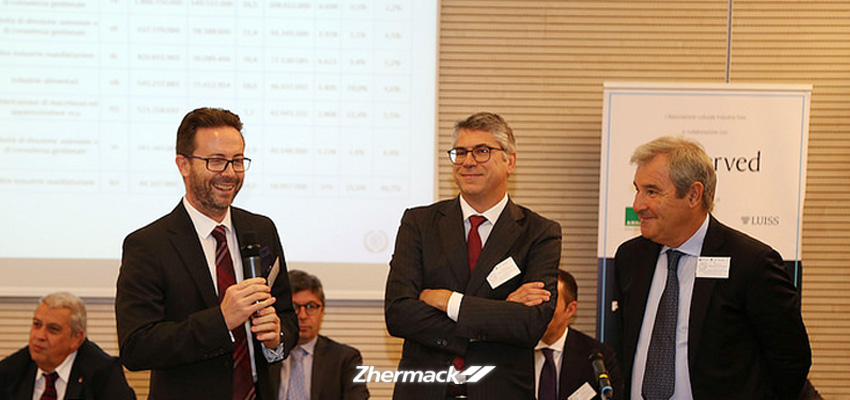 Badia Polesine, 10 października 2017 – "Otrzymana dzisiaj nagroda jest z pewnością dla nas jednym z celów, którego nie powinniśmy uważać za osiągnięty, a raczej za coś, co będzie dla nas właściwym bodźcem do osiągania kolejnych sukcesów z jeszcze większą siłą, przekonaniem i stanowczością. Nasza firma osiągnęła swój sukces, budując go na dwóch fundamentach: Zasobach Ludzkich i filozofii, w której klient stawiany jest zawsze w samym centrum uwagi. Inwestycje w wiedzę i technologię, a także nasz międzynarodowy zasięg, to dopełnienie obrazu strategii naszej firmy". Są to słowa Dyrektora generalnego firmy Zhermack SpA, inżyniera Paolo Ambrosiniego, którymi zwrócił się podczas ceremonii, jaka miała miejsce 6 października w Margherze, a ponownie dzisiaj, w siedzibie w Badii, do publiczności obejmującej władze lokalne i pracowników firmy.
Nagroda Industria Felix jest przyznawana przedsiębiorstwom, które wyróżniają się na tle innych najlepszymi wynikami rocznymi w oparciu o bilanse za 2015 rok, a które wybierane są spośród około 13 tysięcy spółek kapitałowych mających siedziby w regionie Wenecji Euganejskiej i generujących przychody na poziomie od 2 milionów do 12 miliardów euro. Dane pozyskiwane są na podstawie analiz dziennikarza Michele Montemurro, założyciela i prezydenta Nagrody oraz danych Cerved (największego włoskiego dostawcy informacji i jednej z głównych agencji ratingowych w Europie). Nagroda pod patronatem Uniwersytetu LUISS Guido Carli i Confindustrii regionu Wenecja Euganejska została odebrana przez inżyniera Paolo Ambrosiniego, któremu towarzyszyła niewielka grupa menedżerów Firmy, a wręczono ją w "Sali Oro" w siedzibie Confindustrii regionu Wenecja Euganejska na terenie Parku Naukowo-Technologicznego Vega w Margherze. Podczas wydarzenia, które prowadził dziennikarz, pisarz i dyrektor Rai 1, Angelo Mellone, obecne było kierownictwo Cerved, Uniwersytetu LUISS Guido Carli i Confindustrii regionu Wenecja Euganejska.
Wyróżnienie "Alta Onorificenza" (Najwyższe odznaczenie) przedstawiciele firmy Zhermack przyjęli z dumą, mając świadomość, iż reprezentują liczne grono pracowników, którzy dzień po dniu z poświęceniem angażują się na rzecz wspólnego osiągania docenionych właśnie rezultatów. Przy tej okazji firmę Zhermack doceniono również za odnotowanie najlepszego EBITDA w całej prowincji Rovigo. EBITDA jest to bazujący na zarządzaniu operacyjnym przedsiębiorstwa wskaźnik jego rentowności, który świadczy o efektywności produkcyjnej firmy. "Bieżący krajobraz konkurencyjny, jak wszyscy wiemy i co przeżywany na co dzień, jest skomplikowany i trudny; zdobycie prymatu w takiej sytuacji jest celem wielu, osiągają go jednak tylko nieliczni. Firma Zhermack od zawsze na to pracowała, kierując się swoją Wizją i ustalonymi celami, które realizuje z profesjonalizmem, zaangażowaniem i pasją każdego dnia", oświadczył inż. Ambrosini, dedykując nagrodę wszystkim pracownikom firmy w celu podkreślenia ich wartości i wyrażenia podziękowań.
Podczas odbierania nagrody Dyrektor generalny Zhermack podkreślił również fakt, że wielka Firma powinna zawsze pamiętać o wartości etycznej Odpowiedzialności Społecznej Przedsiębiorstwa, dzieląc się z innymi obecnymi przedsiębiorcami i menedżerami koncepcją, która powinna charakteryzować sposób prowadzenia biznesu każdego przedsiębiorcy.