Nowy mieszalnik Zhermack do alginatu i gipsu w gabinecie dentystycznym. Hurrimix2: urządzenie, bez którego nie można się obejść!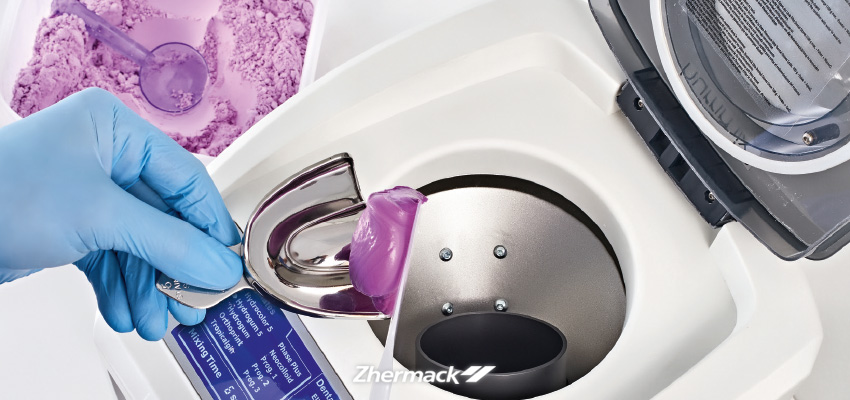 Zhermack, światowy lider w produkcji materiałów wyciskowych, wprowadza na rynek zrewolucjonizowaną wersję urządzenia mieszającego do alginatów i gipsów Hurrimix. «Mieszalnik Hurrimix2 został zaprojektowany w celu zwiększenia wydajności pracy w gabinecie», tłumaczy Nicola Rossi, PM Impression w firmie Zhermack. «W celu zwiększenia wydajności należy zapewnić ciągłe, szybkie i niezawodne mieszanie: w ten sposób można skrócić czas przygotowania masy i liczbę błędów popełnianych podczas pobierania wycisku".
W Hurrimix2 zastosowano rozwiązania techniczne, umożliwiające uzyskanie każdorazowo bardzo wysokiej jakości mieszania w porównaniu z mieszaniem ręcznym dzięki regulacji prędkości obrotowej kubków mieszających, zarówno podczas przyspieszania, jak i podczas hamowania. Ponadto, dzięki możliwości wyboru jednego spośród 10 programów (7 zoptymalizowanych dla produktów Zhermack i 3 wolnych, które można dostosować do wymagań operacyjnych kliniki – zarówno w przypadku alginatów, jak i w przypadku gipsów do użytku stomatologicznego), zapewnione jest szybkie i niezawodne mieszanie. Niespotykane wcześniej, nowoczesne i eleganckie wzornictwo idealnie dostosuje się do wymogów estetycznych gabinetu. Zastosowane rozwiązania techniczne są efektem doświadczeń firmy Zhermack (będącej na rynku stomatologicznym od ponad 35 lat) i gwarantują niezawodność, jakiej oczekują profesjonaliści działający w branży stomatologicznej. Na przykład zastosowano zębatki ze stali i brązu, aby możliwe było kontrolowanie ich zużycia, a w przypadku pojemnika zewnętrznego, który śmiało można dezynfekować*, użyto technopolimeru, odpornego na uderzenia i wysokie temperatury, zgodnie z obowiązującymi przepisami.
«Każdy specjalista potrzebuje dziś narzędzi ułatwiających codzienną pracę», dodaje Nicola Rossi «, a ta jest obecnie coraz bardziej stresująca i skomplikowana. Naszym zadaniem, jako producenta, jest dostarczenie inteligentnych rozwiązań, które umożliwią zapanowanie nad taką sytuacją». Dlatego maszyna Hurrimix2 jest wyposażona w kompletną gamę akcesoriów (jak na przykład butelka dozująca wodę podczas mieszania lub specjalne łopatki, których profil odpowiada profilowi kubków mieszających, w celu ograniczenia ilości odpadów i przyspieszenia zbiórki materiału). Ponadto maszyna Hurrimix2 może być wykorzystywana nie tylko do mieszania alginatów, lecz także gipsu: bardzo często pojawia się konieczność odlewania modelu bezpośrednio w gabinecie (oszczędność czasu i kosztów), ale również to usprawni właśnie Hurrimix2.
Hurrimix2 to rozwiązanie zwiększające jakość mieszania i wycisku, usprawniające i przyspieszające pracę w gabinecie, a także przyczyniające się do zwiększania wydajności specjalistów w gabinecie dentystycznym: jest to urządzenie, bez którego nie można się obejść. Hurrimix2: empower your impression!
*w przypadku stosowania środków dezynfekcyjnych nie na bazie alkoholu