Zhermack wprowadza na rynek Hydrorise Implant, nowy silikon addycyjny o dużej twardości, idealny do tworzenia wycisków w implantologii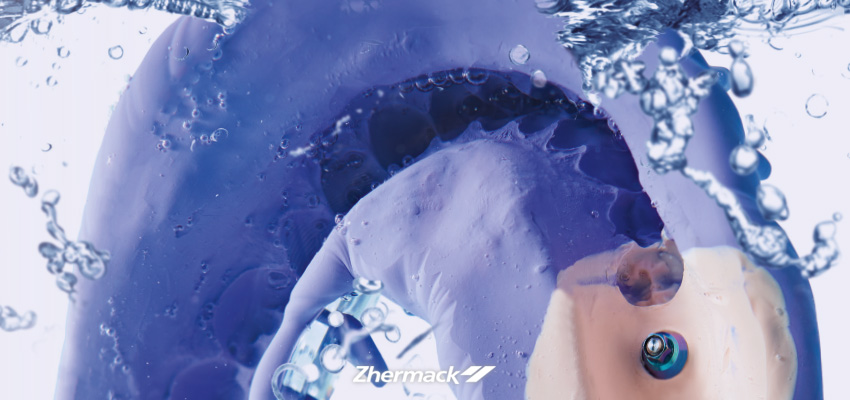 Sukces odbudowy protetycznej z pomocą implantów jest osiągany poprzez połączenie wiedzy, techniki i wysokiej jakości materiałów. Proces pobierania wycisków odgrywa więc kluczową rolę, dlatego w celu uzyskania dokładnego wycisku przy pierwszej próbie niezbędne są takie cechy jak twardość, elastyczność, wysoka stabilność wymiarowa i dokładność. W efekcie takich właśnie założeń powstał Hydrorise Implant – nowy produkt poszerzający znaną już na rynku, ze względu na swoje doskonałe właściwości, gamę produktów Hydrorise. "Formuła na bazie surowców najwyższej jakości stanowi ewolucję wśród materiałów wyciskowych do implantów i odpowiedź na nieustannie rosnące wymagania specjalistów z branży dentystycznej", wyjaśnia Nicola Rossi, Product Manager Impression firmy Zhermack. "Opracowaliśmy silikon addycyjny wyróżniający się dużą twardością, długotrwałą stabilnością wymiarową i biozgodnością, czyli odpowiedni produkt do stosowania w implantologii, zwłaszcza wtedy kiedy często pobieramy wyciski implantologiczne, ponieważ dzięki tym cechom praca stomatologa staje się szybsza i łatwiejsza".
Jako silikon addycyjny Hydrorise Implant zapewnia precyzyjność: jest wystarczająco twardy, by dokładnie przenieść pozycję implantu, precyzyjny, hydrokompatybilny i stabilny wymiarowo (przez nawet dwa tygodnie), a jednocześnie na tyle elastyczny, aby poddać się odkształceniom powstającym w chwili uwalniania wycisku. Hydrorise Implant został opracowany w celu zapewniania bezpieczeństwa zarówno pacjentów, jak i specjalistów z branży. Jest biozgodny i nieprzepuszczalny dla promieni rentgenowskich, więc wszelkie pozostałości w ustach pacjenta można łatwo wykryć w ramach zwykłej radiografii. Ponadto zachowuje stabilność nawet po wykonaniu dezynfekcji. Poza dokładnością i bezpieczeństwem warto jeszcze wspomnieć o komforcie użytkowania zarówno przez dentystę, jak i przez pacjenta: dzięki optymalnym czasom obróbki gwarantuje specjalistom z branży minimalny poziom stresu, nawet w najbardziej skomplikowanych przypadkach klinicznych. Pozwala również na krótki czas pozostawania w jamie ustnej, a to – wraz z przyjemnym miętowym aromatem – zmniejsza dyskomfort odczuwany przez pacjenta podczas tworzenia wycisku.
Dodatkowo należy podkreślić możliwość skanowania bez konieczności użycia matujących sprejów i możliwość stosowania go z głównymi rodzajami łyżek wyciskowych standardowych lub indywidualnych. Hydrorise Implant jest dostępny w wygodnych nabojach samomieszających, a do wyboru są trzy poziomy gęstości (Heavy, Light i Medium Body), dzięki czemu można korzystać z niego przy zastosowaniu techniki równoczesnej, jednomateriałowej (Medium Body) lub dwumateriałowej (Heavy i Light Body), zarówno w ramach procedury "open tray", jak i procedury "closed tray". Hydrorise Implant to rozwiązanie firmy Zhermack, dzięki któremu pacjenci znowu będą mogli cieszyć się pełnym uśmiechem. Hydrorise Implant. Simply accurate.